A 9-year-old black Labrador named Ladybird was found tethered to a public bathroom in Destrehan's Splash Park, Louisiana. She had food and water by her side, and a note attached to her that said, "Be nice 2 dog – got stuck no car – be back soon – give my dog some water – be back in morning."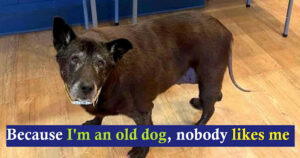 As the content of the note was reasonably incoherent, the local animal control assumed Ladybird to be abandoned and dutifully transferred her to a rescue called St. Charles Parish Animal Shelter. But the very next morning, they received a call from the dog's actual owner – who had bicycled his thanks to the park to retrieve Ladybird!
The animal control guided the person to the rescue, and then the workers finally learned about his heartbreaking ordeal.